Our Beginning
During the summer of 2004, while laying down to go to sleep, an idea hit our founder Brent Baier like a lightning bolt - what if we could type just by touching our fingers?
Too excited to sleep, he stayed up sketching out the idea, sensing the start of something very profound.
And so the Peregrine Glove began with that simple idea, evolving into a glove that makes your hand itself an interface, transforming the "person-to-digital" interaction experience.

Our first product the "Peregrine Glove" launched in 2009. Our roots are in PC gaming, where the glove and it's proprietary Touch Sensing technology gave users "hotkeys on your hand". This legacy glove sold thousands of units and shipped to customers in over 30 countries.
Our Evolution
We quickly learned that the Peregrine Glove technology went far beyond gaming.
Customers started buying the glove for professional and non-gaming uses, such as engineering, document review, live performances, and as an assistive interface for special needs. We worked with the United States Department of Defence on early Augmented Reality systems using a special version of our glove as an interface. The Peregrine Glove even made appearances in the blockbuster movie "Pacific Rim"
In 2016 we tried our first VR headset, the Oculus DK 1. Our founder experienced a sense of awe using VR for the first time, and instinctively wanted to reach out and touch this new digital world with his hands. We knew then that our technology was ideal for the VR experience, and began to position ourselves towards that emerging technology.
Today, we're proud to be a leading VR glove company, bringing natural hand presence to VR applications.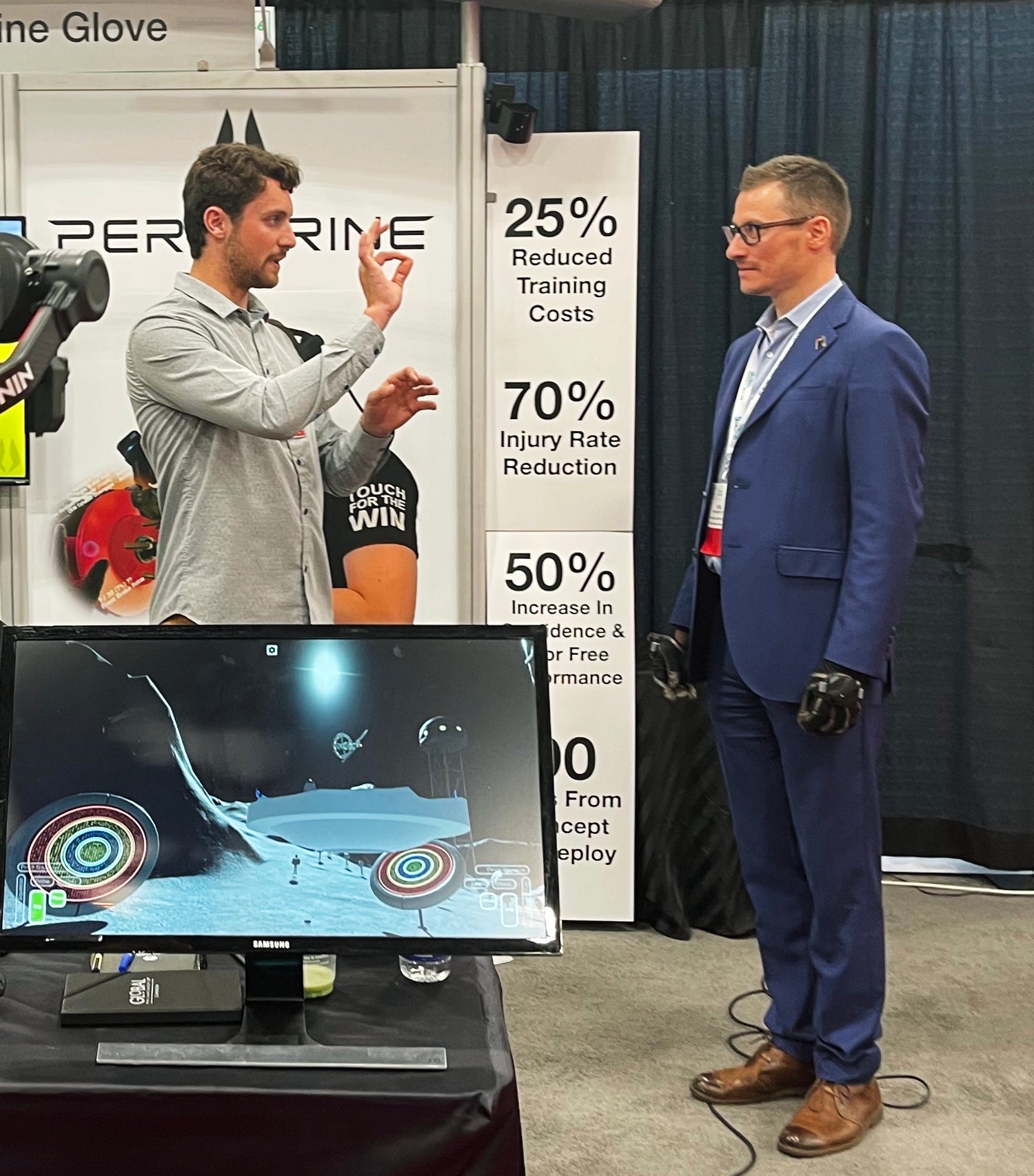 Our Future
We're excited about what the future holds. Building upon over 18 years of experience and know-how in the smart glove world, we continue to innovate and evolve.
With a strong focus on industrial training applications in VR, we've seen countless users and companies experience the unique Peregrine VR Glove solution with a smile on their faces.
We believe the Peregrine VR Glove is how VR should be.
We envision a future where our technology plays a pivotal role in industrial virtual reality training and other applications, providing more natural and immersive experiences for VR users around the world.
We strive to become the #1 choice worldwide for VR glove interfaces.
As VR, AR and other technologies continue to advance, we will be drawing from our decades of innovation in the smart glove space to create new, engaging, innovate technologies and experiences.
The future is in your hands.